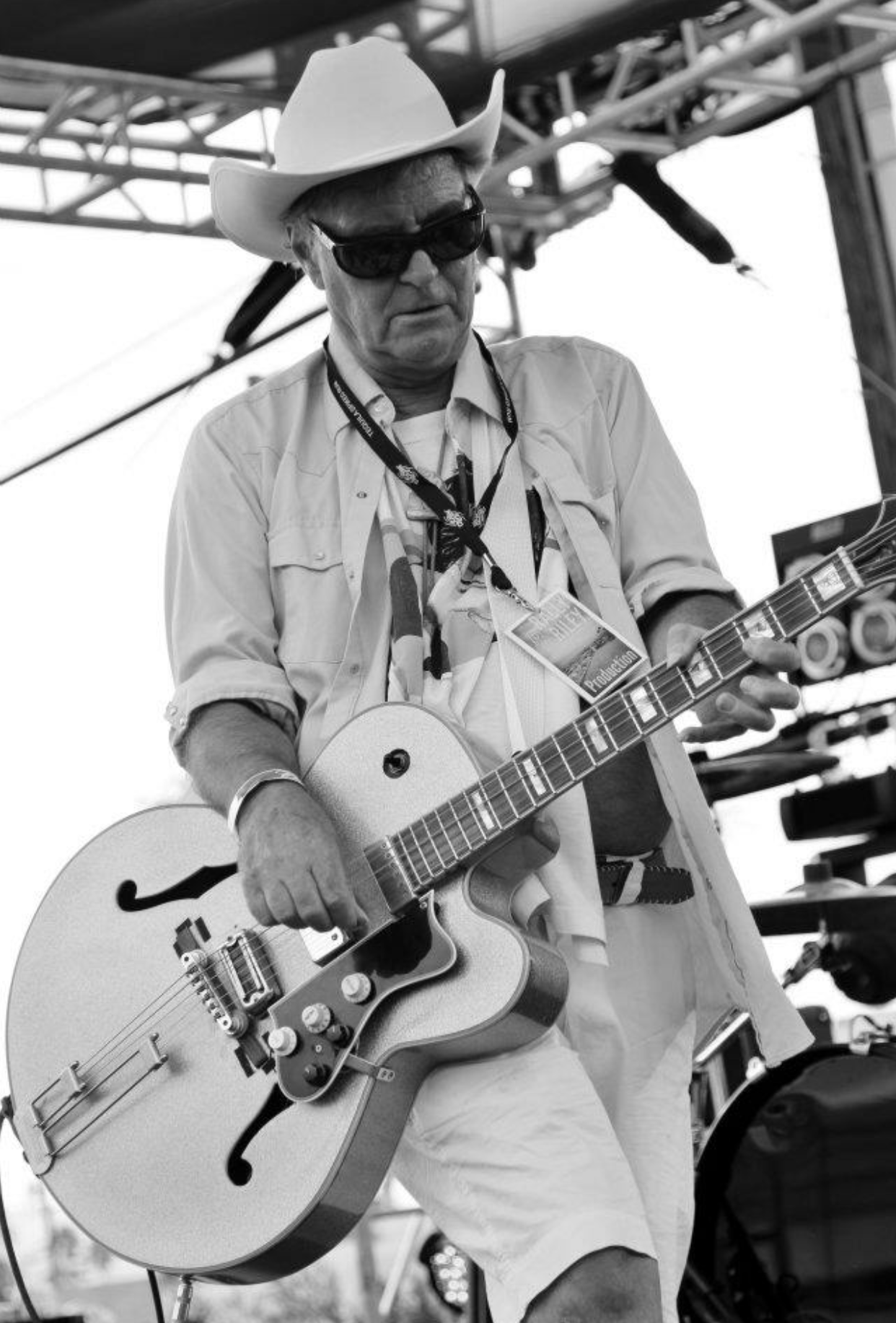 with special guest Deborah Bonham
and opener Alice Wallace
Gates: 6:30pm
Doors: 7:30pm
Show: 8:00pm
Reserved Seating: $55
Standing Room: $35
Tickets are non-refundable and non-transferrable. Read our Ticket Policy.
ABOUT TERRY REID
Terry Reid, 'Superlungs' as he's affectionately known, is without doubt one of the greatest rock/soul voices England has ever produced or is indeed likely to. A Terry Reid concert should be a cherished memory for any self-respecting fan of the greats of British music.
Terry turned down the front man's job with Led Zeppelin, recommending his mate Robert Plant instead, a similar offer and rebuff to Deep Purple. Aretha Franklin's stated that The Beatles, The Rolling Stones and Terry Reid were the best England had to offer in 1968. He underwent two World Tours with The Rolling Stones, US tours with Cream, UK tours with Jethro Tull and Fleetwood Mac, The Isle of White Festival in 1969 and Glastonbury in 1970, played at Mick Jagger's wedding, before soured record deals resulted in Terry leaving Britain for America nearly 40 years ago.
All true, but the full story includes numerous collaborations with Graham Nash, covers of Reid songs by Marianne Faithfull, The Hollies, The Raconteurs (the hugely popular 'Rich Kid Blues'), film soundtracks, including a song in George Clooney's film 'Up In The Air', and a catalogue of 6 studio albums, including the seminal album The River, re-released to critical acclaim in 2002 and the 1976 Nash produced Seed of Memory. A Reid song 'Horses Through a Rainstorm' also features on CSN's box set.
Later on, Terry's worked with French band Shine and The Alabama 3. Following a Glastonbury return in 2009, he played a three night residency at Ronnie Scott's in London, one of only a handful of non-Jazz artists invited to help mark the legendary venue's 50th Anniversary. He played to packed houses, critical acclaim, and returned in 2010 and 2011 to sell out 3 consecutive nights.
In May 2011, he toured Ireland for the first time in 30 years and released a new live album Live In London which included several previously unreleased tracks. Uncut Magazine presented a show featuring Terry at The Jazz Café and he toured England, including several sell-out shows. A return to Glastonbury, headlining the Spirit of 71 stage followed.
2012 turned out to be an important year for Terry Reid. In May 2012, Rumer featured Terry's song 'Brave Awakening' on her new album Boys Don't Cry, (which entered the UK Album Chart at No3). Terry returned to the Isle of Wight Festival for the first time since 1971 in June. In August 'America's Got Talent' Winner in 2010, Michael Grimm, included Terry's song 'Without Expression' on his latest album, Gumbo. In the spring, DJ Shadow had invited Terry to write the lyrics to a new track for his Reconstructed album – This became the song 'Listen' and the official video got 400,000 plays on Youtube in late 2012.
In April, 2016 Terry worked in Johnny Depp's home studio with Aerosmith's Joe Perry on a song for the guitarist's forthcoming album. The same month Light in the Attic announced the release of The Side of the River, a collection of unreleased material and alternate takes from the 1973 album sessions for the twice-recorded River. David Fricke of Rolling Stone wrote, "these outtakes are a marvelous window in the making of Reid's original, underrated classic- and a seductive triumph on their own". John Dale of Uncut said, "the end result is some of the most compelling and gorgeous rock music of the decade".
In 2018 Terry has continued to tour, ending on a high note with his much talked about appearance on Later...with Jools Holland. 2019 promises to be very exciting, as Terry will be working on a new album with all new material.
ABOUT ALICE WALLACE
"It's a song about taking the risk to do what you love," Alice Wallace says of the soaring track, "The Blue," which yields a lyric entitling her spellbinding new album. With Into the Blue, the California-country singer-songwriter conjures the atmospheric sound of the Golden State's canyons and deserts, mountains and crashing waves, its crowning beauty and its tragic losses. At the same time, the supple-voiced Wallace tells her own and others' stories, weaving tales that resonate as we grapple with so many disturbing national issues.
Into the Blue is Wallace's fourth album but marks her debut on the brand-new Rebelle Road label, an imprint founded by a trio of women dedicated to strengthening the California Country music community and expanding visibility for female artists in the Americana/roots genre. "They care so deeply about giving women a stronger voice in the music industry," Wallace attests. Having spent the past six years writing songs and touring the nation – from AMERICANAFEST® to county fairs, barrooms to coffeehouses – Alice Wallace is ready to break out. "It takes bravery to 'sail away into the blue' and grab it," she says. "It took me until about six years ago to finally take the plunge, quit my job and go for it. I haven't looked back since."
It was after Wallace's return to her birth state of California that she fully embraced her calling as a singer-songwriter. Her musical family had relocated to rural St. Cloud, Florida, when she was a child. She grew up around the sounds of her parents playing guitars and singing, with "Gram Parsons and Emmylou Harris, their favorite," she recalls. She also absorbed the country rock of '70s-era Linda Ronstadt on the turntable. "I really taught myself to sing by mimicking their styles," she says. "The powerful belt that Linda has. The emotive lilt to Emmylou's voice. Trying to navigate those different elements helped me find my own voice nestled in between all that." She first picked up guitar at age 10, with her dad teaching her to finger-pick at 15, and by senior year in high school, Wallace was performing original compositions at the local Borders bookstore. It was in college that she discovered yet another calling: yodeling, that haunting vocal style that blends blues, country, and western. Wallace's own "A Little Yodel" added her to the ranks of legends Patsy Montana and Carolina Cotton.
In 2008, when the Wallace family relocated back to Southern California, she joined them. There, she began focusing on writing, performing, and touring, both solo and with a band. Since 2013, she performs some 200 dates a year. One of those with whom she's shared stages is singer-songwriter Ray Wylie Hubbard, who says she and her "stunning" songcraft have that "Steve McQueen 'Cincinnati Kid' cool." Pundits agree: she won the 2017 Female Vocalist of the Year at the California Country Awards and the previous year's Best Country/Americana Artist at the L.A. Music Critic Awards. She was recently singled out by the Los Angeles Daily News and Pollstar for her "dead-on lovely version" of Ronstadt's "throbbing" "Long Long Time" at the "Palomino Rides Again" event celebrating the legendary California honky-tonk.
Into the Blue represents Wallace's evolution as a recording artist, showcasing her growth as a songwriter as she embraces a fuller sound, backed by some of Americana's most distinctive players. Co-produced by Steve Berns and Rebelle Road's studio veteran, songwriter and musician KP Hawthorn (who've made a name for themselves working with artists in the West coast Americana scene), the album is brimming with soul. The formidable rhythm section, including drummer Jay Bellerose (Bonnie Raitt, Elton John, Aimee Mann) and bassist Jennifer Condos (Jackson Browne, Graham Nash), underpins instrumentation ranging from Tom Bremer's crunchy electric guitar to Kaitlin Wolfberg's lush string arrangements to keys and pedal steel from Jeremy Long (Sam Outlaw).
Wallace uses an intoxicating array of vocal styles to bring her songs to life: a dusky alto on "The Lonely Talking" (co-written with KP Hawthorn); gospel-tinged belting on "When She Cries" (inspired by the end of a six-year drought in California), and a soaring soprano on "Santa Ana Winds." The latter, a country-rock chronicle of California's devastating wildfires, is a co-write with Dallas artist Andrew Delaney, a frequent collaborator whom she calls "the most brilliant lyricist I've ever met." Wallace inhabits his stirring "Elephants," giving voice to women who refuse to be "quiet as a mouse in a room full of elephants." The Wallace-Delaney-penned "Echo Canyon" is, she says, "a southwestern cowboy ballad that's a modern take on a yodel song." Wallace's heart-wrenching "Desert Rose" tells of a young mother's struggle to give her baby a better life across the border.
Lyrically, the heart of the album is the luminous anthem, "The Blue," says Wallace. It describes her own journey to "get over my fears and go for the thing I love the most." She knew that being a traveling troubadour and committing herself fully to music could be a dangerous choice. "In some ways, I wish I had done it sooner," she says. "But I'm also glad I have the life experience to help fuel my songwriting and survive life on the road." The highly charged emotional feel of "The Blue" derives in part from its exquisite layered harmonies – Wallace's vocals joined by those of her father, mother, and brother. Known as "blood harmony," when kinfolk sing together, it conveys a rapturous kind of purity and strength. That buoyancy radiates throughout Alice Wallace's Into the Blue, lifting her listeners up, transporting them into the world of a seasoned troubadour looking back from a dream realized and dues paid without regret.