Levon Helm Teaches Classic Rock, County and Blues Drumming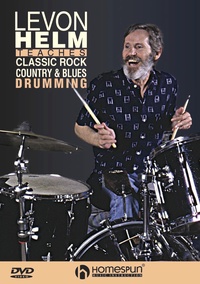 Levon Helm Teaches Classic Rock, County and Blues Drumming
Take a lesson from a true rock legend! The late Levon Helm's music reflected a cross-section of American roots music: Delta blues, country, rockabilly, R&B and, of course, the indelible music of The Band. In this rare session, taped in his barn-like studio and recently re-released after more than a decade, the Arkansas native shares his unique ideas on drumming, time-keeping, his impeccable groove and the history of blues and rock 'n' roll. Hear this born storyteller's fascinating insights into the music and lore that helped shape rock 'n' roll history!
Beginners and professionals alike will benefit from Levon's singular approach to the drums. He covers basic concepts - shuffles, eighth-note grooves, rim shots, intros and fills - for learning players, while more experienced drummers will learn first-hand about the deceptive "feel" that shaped his unique sound. Levon's ideas about tempo, click tracks, half-time, drumming while singing, arranging double drums and other techniques will add powerful new elements to any drummer's style.
Levon works his way through several country blues and Band tunes, including The Weight, King Harvest, Blues Stay Away From Me, Rock and Roll Shoes, Short Fat Fanny, Up On Cripple Creek, Life is a Carnival and Hand Jive, with performances by The Band specifically staged for this DVD.
Levon and The Band demonstrate several country blues and Band tunes with performances staged specifically for this DVD.
sold out